BOND CONSTRUCTION PROJECT INFORMATION
Facility Planning Process
During the summer months of 2017, architects and engineers from Kingscott and estimators from Triangle Associates, assessed the facilities of the district. They identified components and systems of the existing buildings that would need to be replaced or improved over the next five years along with an estimate of the cost to make the improvements. In the fall of 2017, the district convened a Facilities Needs Committee tasked with developing a recommendation to the Board of Education that would address those needs. The committee began by developing the following guiding principles that would help them prioritize the list.
Guiding Principles
Protects longevity and efficiency of the facilities/ improves the life cycle of the facilities/ protects the General Fund from big economic hits
Directly impacts student learning including technology
Improves student/staff safety & security in an efficient manner
Creates a competitive edge with adjacent districts, programs others don't offer, curb appeal, refresh
Using these principles, the committee reviewed the facilities assessment and costs and honed the list to develop a recommendation. At the same time additional needs were identified such as replacement of technology, student furniture, and a new auxiliary gymnasium which were then included in the recommendation. This was presented to and accepted by the Board of Education on December 18, 2017. This was then developed into an Application for the Preliminary Qualification of Bonds that was reviewed and approved by the Michigan Department of Treasury. The Board of Education approved the final application on January 15, 2018 and voted to place the two bond proposals on the ballot on February 12, 2018.
Major Scope Items for Proposal 1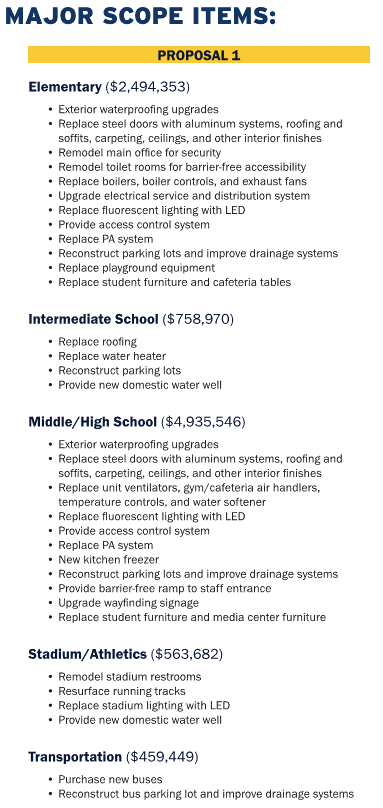 Major Scope Items for Proposal 2

Decision Making Structure/Design/Schedule