District Calendar
Calendar

Previous

September

2023

Next

S
M
T
W
T
F
S
1

Sep 1

Labor Day Holiday - No School, No Staff

Calendar:

District Calendar

2
3
4

Sep 4

Labor Day - No School, No Staff

Calendar:

District Calendar

5
6
7
8
9
10
11
12
13
14
15
16
17
18
19
20
21
22
23
24
25
26
27
28

Sep 28

4:00 PM to 7:00 PM

6-12 Conferences 4:00 - 7:00 PM

Location:

Jr. & Sr. High School Cafetorium

Calendar:

District Calendar

29

Sep 29

1/2 Day Students - Teachers 1/2 Day MICIP and Building Meetings

Calendar:

District Calendar

30

6-12 Conferences 4:00 - 7:00 PM

Location:

Jr. & Sr. High School Cafetorium

Calendar:

District Calendar

1/2 Day Students - Teachers 1/2 Day MICIP and Building Meetings

Calendar:

District Calendar

Students 1/2 Day Dismissal - Teachers 1/2 Day PD

Calendar:

District Calendar

Calendar:

District Calendar

No School for Students, MICIP Meetings AM, - Staff Records Day PM

Calendar:

District Calendar

K-5 Conferences 4:30 pm - 7:30 pm (Full Day of School)

Calendar:

District Calendar

K-5 Conferences 4:30 pm - 7:30 pm (Full Day of School)

Calendar:

District Calendar

1/2 Day Students - K-12 - Teachers 1/2 Day MICIP and Building Team Meetings

Calendar:

District Calendar

No School - Thanksgiving Break

Calendar:

District Calendar

6-12 Conferences 4:00 - 7:00 PM

Location:

Jr. & Sr. High School Cafetorium

Calendar:

District Calendar
About C-S Schools
ABOUT CLIMAX-SCOTTS COMMUNITY SCHOOLS
The District is committed to the development of "leadership skills" within the system and expects each student to become a cooperative and independent participant in a world community. Our goal, each day, is to improve the teaching/learning process through a teamwork approach.
Climax-Scotts Community School District is rural, occupying some 61 square miles and is located conveniently between Kalamazoo and Battle Creek just off I-94.
District Enrollment
Elementary School (K-5): 231
Jr./Sr. High School (6-12): 275
Virtual Academy 37
Total Students: 543

The School of Choice for families and staff:
Preparing students with 21st Century Skills
Academic Success - Learn at any pace
New top quality facilities and athletic fields
Taught to be Moral, Ethical & Compassionate
Held accountable for actions
Environment - Positive and Supportive
Rewarded for efforts
Students and staff proud to be a CS Panther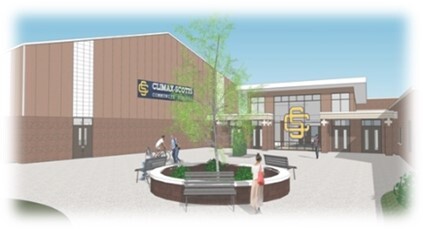 If you have any difficulty with accessibility please contact the Superintendent's Office at 269.746.2402 or email CSPR@csschools.net.