C-S Board of Education
The District is committed to the development of "leadership skills" within the system and expects each student to become a cooperative and independent participant in a world community.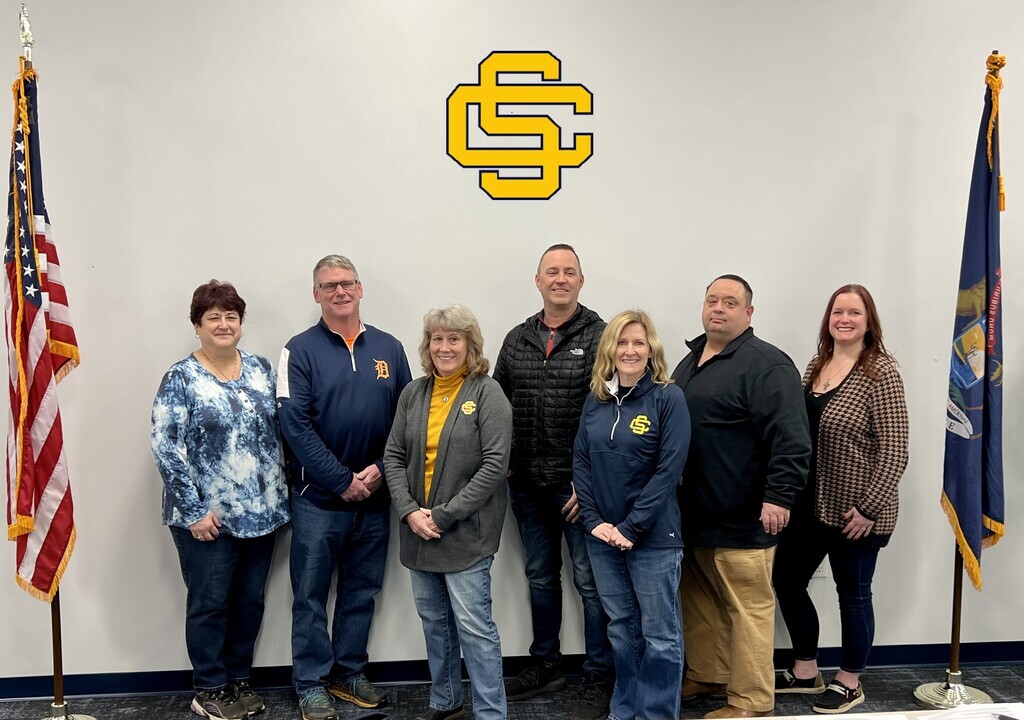 2023-2024 Board Meetings
2023-2024 Meeting Dates/Agendas
Meeting Dates & Agendas
** PLEASE NOTE - BOARD MEETINGS BEGIN AT 6:00 P.M. and will be held in the Board Room at the Old Tech. Ed. building.**
Meetings are held at 6:00 p.m. on the third Monday of each month (unless otherwise noted*).
December 18, 2023
January 15, 2024 (Organizational meeting-where we set the new board meeting calendar)
2022-2023 Meeting Dates/Agendas
CLIMAX-SCOTTS community schools
BOARD OF EDUcATION MEMBERS
Our goal, each day, is to improve the teaching/learning process through a teamwork approach.
Mrs. Sue Reichert, President - email
15651 Mercury Drive | Climax, Michigan 49034
Phone: (269) 746-4053
Election Date: 07/01/2003
Term Expired: 06/30/2007
Election Date: 07/01/2007
Term Expired: 06/30/2011
Election Date: 07/01/2011
Term Expires: 12/31/2016
Election Date: 01/01/2017
Term Expires: 12/31/2020
Election Date: 01/01/2021
Term Expires: 12/31/2024
Mr. Trent Piper, Vice President - email
9388 South 45th Street | Climax, Michigan 49034
Phone: (269) 746-5572
Appointment Date: 07/01/2008
Term Expired: 05/05/2009

Election Date: 05/05/2009
Term Expired: 12/31/2012
Election Date: 01/01/2013
Term Expires: 12/31/2016
Election Date: 01/01/2017
Term Expires: 12/31/2020
Election Date: 01/01/2021
Term Expires: 12/31/2024
Mrs. Terri VandeGiessen, Secretary/Treasurer- email
6896 36th Street South | Scotts, MI 49088
Phone: (269) 626-8681
Election Date: 07/01/2009
Term Expired: 12/31/2014
Election Date: 01/01/2015
Term Expires: 12/31/2018
Election Date: 01/01/2019
Term Expires: 12/31/2022
Election Date: 01/01/2023
Term Expires: 12/31/2026
Mr. Matt Birkam, Trustee - email
224 S Lovell St. | Climax, Michigan 49034
Phone: (269) 350-6933
Appointment Date: 09/20/2021
Term Expires: 12/31/2022
Election Date: 01/01/2023
Term Expires: 12/31/2026
Mrs. Lori Bagwell, Trustee - email
11514 2 Mile Road | Climax, Michigan 49034
Phone: (269) 979-2954
Election Date: 01/01/2017
Term Expires: 12/31/2020
Election Date: 01/01/2021
Term Expires: 12/31/2024
Ms. Jackie Longman,Trustee - email
114 Maple Circle | Climax, Michigan 49034
Phone: (269) 532-8248
Election Date: 01/01/2017
Term Expires: 12/31/2020
Election Date: 01/01/2021
Term Expires: 12/31/2024
Mr. Steve Wurtzel, Trustee - email
16447 Q Avenue, East | Climax, MI 49034
Phone: (269) 207-5071
Original Trustee Election Date: 01/01/2015
Appointment Date: September 25, 2017
Term Expires: 12/31/2018
Election Date: 01/01/2019
Term Expires: 12/31/2022
Election Date: 01/01/2023
Term Expires: 12/31/2026