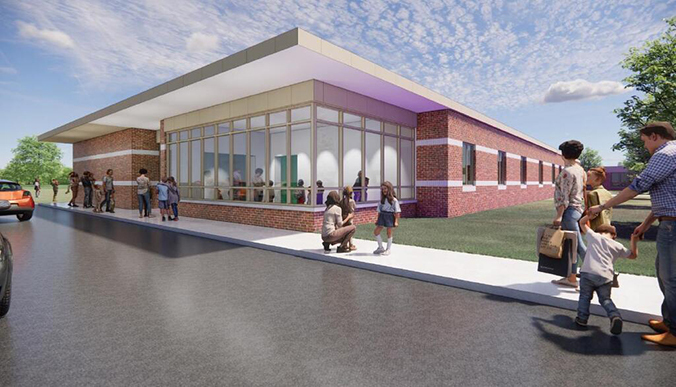 MAY 2023 BOND PROPOSAL INFORMATION
Putting Kids First!!
No-Mill Increase Bond Passes:
Thank you, C-S Community, for your continued support by passing the May 2nd bond proposal.
The planning and input meetings should start in June. First, we will meet with some staff to get their input, before they take their well-deserved break. Then, after we have some draft drawings, we will be meeting with other groups to get their input and feedback.
Once we have meetings scheduled, we will post them here and keep you informed.
Facility Planning Process
Facility Planning Process
During the summer months of 2022, architects from TMP Architecture and estimators from Fredericks Construction assessed the facilities of the district. The district provided a list of projects that were deferred from the 2018 bond project, and TMP and Fredericks also identified components and systems of the existing buildings that would need to be replaced or improved over the next five years along with an estimate of the cost to make the improvements. TMP, Fredericks, and the district's facility committee were tasked with developing a recommendation to the Board of Education that would address those needs. The committee began by developing the following guiding principles that would help them prioritize the list.
Guiding Principles
Protects longevity and efficiency of the facilities/ improves the life cycle of the facilities/ protects the General Fund from big economic hits
Directly impacts student learning including technology
Improves student/staff safety & security in an efficient manner
Creates a competitive edge with adjacent districts, potential programs others don't offer, curb appeal, refresh
Using these principles, the committee reviewed the facilities assessment and costs and honed the list to develop a recommendation. This was presented to and accepted by the Board of Education on December 19, 2022. This was then developed into an Application for the Preliminary Qualification of Bonds that was reviewed and approved by the Michigan Department of Treasury. The Board of Education approved a resolution to place the bond proposal on the ballot on January 16, 2023.
Frequently Asked Questions
No-Mill Increase Bond Proposal:
Thank you to our Climax and Scotts Communities for your continued support of our 2018 Bond Projects.
We are now ready to complete Phase II. The 2023 bond will focus on many projects that were deferred by the 2018 Steering Committee because they did not fit within the available bond funds, and on the current needs of our elementary. Most of the 2018 project was dedicated to the Jr/Sr High School campus. If you have any kids or grandkids in the elementary you are probably aware of our need for additional space. In the last few years our enrollment has increased dramatically, we have added additional classes for our three- and four-year-old programs, and we have a need for additional daycare space. As a district, our enrollment has increased nearly 10% just in the last two years.
If you would like to hear more details about the project, we will be hosting a community meeting in the Scotts Elementary Gym at 6 pm on March 6th, and in the board room at the Jr/Sr High School campus at 6 pm on March 9th.
Elementary Improvement Highlights
6000-SF New Addition to house Daycare and additional Classrooms

Parking Lot expansion to serve new Daycare and Pre-K Addition

5500-SF New Addition to serve as a Multipurpose room

Create a Secured Entrance and Welcome Center

Re-model of Media Center & Music/Art Room

Remodel/Refresh Shared Use Bathrooms

Building-Wide mechanical upgrades to heat and cool the building and provide MERV 13 Filtration with Bi-Polar Ionization

Automated Building Management system for HVAC equipment control

Building-Wide Electrical Service Upgrades

Corridor Flooring Replacements

Exterior Building Improvements

Playground Fencing, Equipment and Activities Additions

New un-heated, on-site storage building
Jr/Sr High School Campus and Athletics Highlights
New Sidewalk and Exterior Lighting along Entrance Drive

Flooring Replacements: Corridors, Cafeteria, Science

Green House renovations

Window and EFIS replacements

New mechanical equipment to serve the original gymnasium (Heat/Cool)

Electrical Service Upgrade

Renovate existing spaces at the High School to create a Robotics Lab

Renovate spaces at the intermediate building to create a Wrestling Facility

Renovations to the Baseball and Softball Facilities: New Fencing and Backstops, Batting Cages and Bullpens, Scoreboard, Dug-Out improvements, Bleacher, and PA System replacements

Bleacher improvements at the Football Field

Turf improvements to the Football Practice Field

District-Wide Technology, Transportation, Band & Gym Equipment additions
BOND PROPOSAL
Shall Climax-Scotts Community Schools, Kalamazoo and Calhoun Counties, Michigan, borrow the sum of not to exceed Sixteen Million Two Hundred Thousand Dollars ($16,200,000) and issue its general obligation unlimited tax bonds therefor for the purpose of:
erecting, furnishing and equipping additions to school buildings; remodeling, furnishing and refurnishing and equipping and re-equipping school buildings; acquiring, installing and equipping or re-equipping school buildings for instructional technology; purchasing school buses; and preparing, developing, improving and equipping playgrounds, athletic fields and facilities and sites?
The following is for informational purposes only:
The estimated millage that will be levied for the proposed bonds in 2023, under current law, is 1.99 mills ($1.99 on each $1,000 of taxable valuation) for a 0 mills net increase over the prior year's levy. The maximum number of years the bonds may be outstanding, exclusive of any refunding, is thirty (30) years. The estimated simple average annual millage anticipated to be required to retire this bond debt is 5.01 mills ($5.01 on each $1,000 of taxable valuation).
The school district expects to borrow from the State School Bond Qualification and Loan Program to pay debt service on these bonds. The estimated total principal amount of that borrowing is $4,661,468 and the estimated total interest to be paid thereon is $6,832,798. The estimated duration of the millage levy associated with that borrowing is 29 years and the estimated computed millage rate for such levy is 7.30 mills. The estimated computed millage rate may change based on changes in certain circumstances.
The total amount of qualified bonds currently outstanding is $9,860,000. The total amount of qualified loans currently outstanding is $0.
(Pursuant to State law, expenditure of bond proceeds must be audited and the proceeds cannot be used for repair or maintenance costs, teacher, administrator or employee salaries, or other operating expenses.)